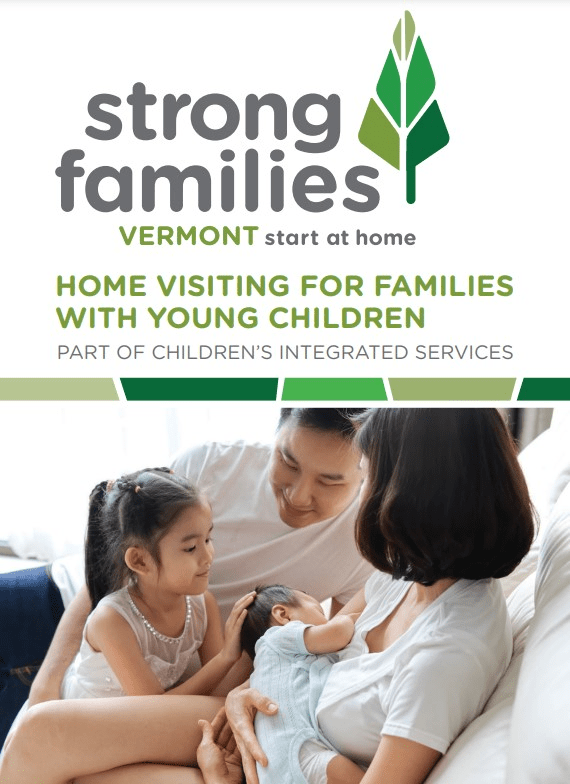 Did you know that, in August, the Vermont Department of Health launched the new Strong Families Vermont campaign in partnership with Help Me Grow Vermont? The updated Strong Families page, available on the Vermont Department of Health website, allows new and expecting parents to connect directly with our Help Me Grow Vermont Child Development Specialists for help getting set up with home visiting services.

Who can access resources through Help Me Grow Vermont?
Any expecting parents or parents of a child under age 5 in Vermont are more than welcome to reach out through the Strong Families Vermont page. No matter whether you are preparing for your first, or newly welcoming your youngest, Strong Families Vermont is here to support you!

What kind of resources are available to me?
Strong Families Vermont provides free, flexible home visits with a nurse or trained family support professional. These home visits can offer a variety of supports that meet the needs of the whole family. This includes:
Pregnancy, birthing, and postpartum care
Lactation support and nutrition education
Parenting support
Caring for your baby and young child
Ways to play and connect with your baby that support child development
Connection to other services, programs, and families
Why opt for home visiting?
Strong Families Vermont follows evidence-based models of home visiting that are shown to improve and promote a multitude of factors, including:
Maternal and child health
Child development and school readiness
Positive parenting practices
Family economic self-sufficiency
No matter where you are along your parenting journey, you do not have to go at it alone. For more information about the Strong Families Vermont program, visit https://www.healthvermont.gov/family/pregnancy/strong-families-vermont or contact Help Me Grow by phone at 211 ext. 6, email us at info@helpmegrowvt.org, or text HMGVT to 898211.

Please note: Help Me Grow Vermont is not a crisis line. We are available Monday through Friday from 8 a.m. to 5 p.m. If you or someone you know are experiencing thoughts of suicide, you can dial 988 to reach the 988 Suicide and Crisis Lifeline or text VT to 741741.